C. L. Edwards from Yelp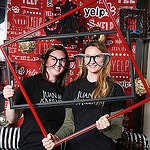 Yesterday I went to Hawaiian Eye Center in Wahiawa to have laser assisted cataract surgery done on my left eye by Dr. Christopher Tortora. I must say Dr. Tortora, his cataract team and his staff are very exceptional people that you do not find much of in this field of work.  His cataract team of Anesthesiologist: Wendell Foo M.D.
Circulating Nurses: Jennifer Cabal R.N. Cassie Ann Claveria R.N.
Surgical Ophthalmic Medical: Julie Battista C.O.R.T.
Technicians/Expediters: Cheryl Polendey
Senior O.M.A.: Jocelyn Candelario
O.M.A.: Mary Ann Manibog
Surgical Scheduler: Angela Dela Cruz E.M.T.
And of course all of his other staff members including Transportation Services Driver, Donna Awana. They all went above and beyond very EXCEPTIONAL SERVICE. I will be having my right eye done next month in September and LOOKING forward to SEEING Dr. Tortora and his cataract team and staff again. I would recommend Dr. Tortora to anyone needing cataract surgery done. You will SEE for yourself how GREAT he and his cataract team and staff are. So if you are needing cataract surgery done
DR. CHRISTOPHER TORTORA is the one to SEE!
Thank you to you and your team.
C.L.Edwards August 20,2015